Our Vision
To rebuild Iraq, together, using Iraqi engineers and man power by utilizing the unprecedented reconstruction opportunity currently present in our favor.
Our Mission
To restore and correct the international community's perception of Iraq's engineering competency levels by performance of our team and organization.
Our Value
To perform with integrity above and beyond international standards despite the unfortunate circumstances of our environment.
Imad A. Makki - Chairman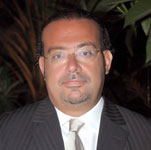 The last five years have seen sweeping change in Iraq. At Al Qarya Group, we are proud to be playing a positive role in rebuilding our country. To date we have completed over $200 million worth of infrastructure reconstruction contracts. From Baghdad International Airport to Al Mat Bridge, and many more projects, our expertise has been used to repair and rebuild key nationwide locations.

As a leader in the contracting business we have built our reputation on developing a thoroughly professional approach and utilizing only the most highly skilled and experienced personnel. Our years of experience in the field and liaising with government institutions give us an unrivaled position vis a vis our competition.

The coming months and years will see even more reconstruction work carried out across the country. At this unprecedented moment of opportunities, we at Al Qarya Group look forward to another year of prosperity and successful project implementation, not only for our company but also for the Iraqi nation as a whole.
Imad A. Makki - Chairman