Our Vision
To rebuild Iraq, together, using Iraqi engineers and man power by utilizing the unprecedented reconstruction opportunity currently present in our favor.
Our Mission
To restore and correct the international community's perception of Iraq's engineering competency levels by performance of our team and organization.
Our Value
To perform with integrity above and beyond international standards despite the unfortunate circumstances of our environment.
Al Qarya Construction Works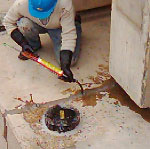 From its beginnings in 2001, Al Qarya Group has grown to become a leader in the contracting business in Iraq.

To date Al Qarya Group has successfully completed contracts with a total value of over US $200 million. From construction and water treatment to electromechanical works and transportation services, our range of professional services is immense. With our broad range of expertise and resources,we pride ourselves on delivering projects of the absolute highest standards. From conception to completion, our approach is constantly one of the utmost professionalism. Having undertaken projects for virtually every major public and private organization in Iraq, and with a thorough knowledge of dealing with government institutions and ministries,we believe our experience is unrivaled.

Al Qarya Group is registered with the Iraqi Government Ministry of Trading, Ministry of Communication and Transportation, Ministry of Health, Ministry of Finance, Ministries of Oil (SOMO & NOMO), Ministry of Education, and Ammanat of Baghdad.